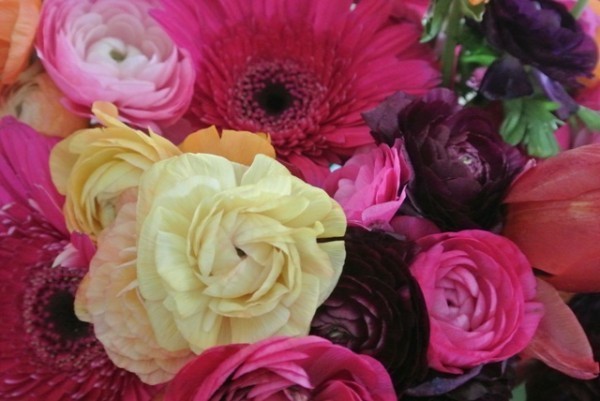 I have been a fan of Debra Prinzing's work for many years. She is the author of 7 books, writes for several publications and is a popular speaker. Her most recent endeavor is initiating a movement called Slow Flowers, a nationwide online directory to florists, shops, and studios who design with American-grown flowers.

This past winter, Debra asked me to be a guest on her highly respected podcast, Slow Flowers, to discuss my book, Digging Deep and the power of flowers. She and I are both passionate about buying locally grown flowers and making flowers an integral part of everyday life so being a guest on her show was a joy.
Please get onto Debra Prinzing's website to listen to her interview with me and learn more about  how she is helping to make a positive change in the world by being a champion of the sustainable flower movement.
I think you'll enjoy getting to know her. I know I have.
And if you're interested in learning how to use 'Playing With Flowers', an exercise from my book, Digging Deep: Unearthing Your Creative Roots Through Gardening, as a tool for inspiring playfulness and mindfulness, the article below tells you how to do it.
HOW DESIGNING FLORAL ARRANGEMENTS CAN BE AN EXERCISE IN PLAYFULNESS AND MINDFULNESS
If you think that buying fresh cut local flowers and creating stunning floral arrangements for your home is a luxury, think again.
Research has shown that being in the presence of flowers increases your level of optimism and sense of security, helps to decrease stress, and can have a significant effect on your 'happiness' factor.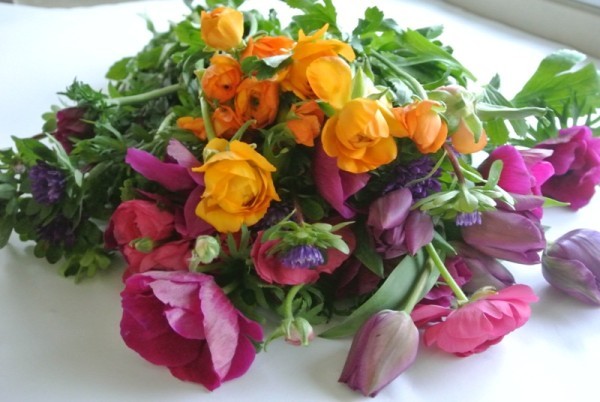 .
So a suggestion this winter. Rather than grabbing whatever flowers you can find at the florist or grocery store, why not slow down and transform creating floral arrangements into both a playful and meditative practice…..while designing something beautiful?
10 TIPS ON HOW TO DO IT

1. If possible, locate a sustainable local flower grower in your area. Very often you can find them at your farmer's market. If not, check out Debra Prinzing's  Slow Flowers directory to see if there is a grower or florist close to you that carries locally grown flowers.
2. Buy at least a few dozen flowers. My strategy is to purchase larger numbers of one variety–similar to what I do in the garden so that I end up with at least 6 of one type of flower.
Don't rush. Really take you time and decide what pleases your eye. Remember, it is only flowers you're buying. If you're unsure about what you like, experiment and try something new.
3. Bring flowers home and place in a cool sink of water. Using a sharp pruner, remove all foliage near the bottom of the stem and cut an inch off of the bottom of the stem.
My rule of thumb is to cut less than more from the stems. Until you start placing them in vases, you probably won't know what height you'll want them to be.
To read more, click on here.