Today I'm interviewing Alex Blackwell about his new book Saying Yes To Change: 10 Timeless Life Lessons for Creating Positive Change.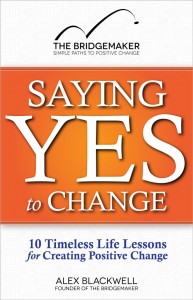 Click on Alex' site, The Bridgemaker, to experience and sink into  his passion and firm belief that each of us has the power to make significant changes in our lives.
1. Why did you decide to write a book at this point in your life?
It has been a story in the making for the past nine years. In 2003, my life was at a crossroads. On the verge of losing my wife, I decided it was time to change. The spiritual and personal formation seminar I attended provided the kick start I needed.
A few years later, I started The Bridgemaker. It was soon clear that my message and personal journey resonated with many readers. So long answer short, I decided to put my story in one place, a book, to inspire others to begin walking their paths to positive change also.
2. You were at a dark place in your life when you decided to make changes. How can Saying YES To Change help people who are ambivalent about their life…discontent but not in excruciating pain?
Fran, I believe people don't change until they are ready to. Perhaps through sharing my story others may become motivated to want to change – to want to see the beauty that is waiting just for them.
3. You say that 'you can try too hard in your relationships' which is the opposite of what we're led to believe we need to do. Talk to us about this.
Early in my marriage I tried to be the perfect husband but that wasn't what my wife wanted – and it wasn't what our marriage needed. I wrote a post about the need to be perfect two Christmases ago. "After all, store-bought gifts may come in the right color and in the perfect size but love doesn't have to be perfect – it just has to be given the chance to win."
The meaning of the post was my wife  didn't want me to do everything perfectly –  she just wanted to see me smile more often. So, my suggestion: Smile and celebrate the imperfect you. And when you do, love will have every chance to win!
4. One of your chapters is about learning to live without asterisks. Can you explain what that means?
It's about not setting limits on how we think our lives should be. Asterisks are typically associated with limitations, restrictions, or conditions. We can get mired down with how we should do something, rather than following our heart.
For example, "I want to write a book, but I should spend more time with my family." You know what I did? I asked my family. They told me to follow my dream and write. On my last day in this world, I won't have an asterisk next to the goal of writing a book!
5. 'Being inspired by love' is important to you. What circumstance ignited that desire? And how do you suggest people learn about and experience it within themselves?
It's about making the decision to make love last, no matter the circumstances. Everyday life can get in the way of sustaining intimate relationships. But when we make the decision to put love before the chores, the bills, and life's other challenges, then we are being inspired by love.
6. You believe that 'Love is a choice. There is a difference between love, the feeling, and love, the choice.' Can you explain what you mean?
Love is a choice means creating the awareness to wipe away the dirt, pull away the layers and let your heart shine. We are faced with the choice to be love on a daily basis: "Do I really listen to what my child is saying; Do I stop and help someone in need' Do I respond when I'm being called to serve?" All are choices. And all require love.
7.  So many people have been worn down by life and have lost their self confidence. What steps can they take to develop it?
Begin by taking baby steps. Do one small thing each day that makes you feel good about yourself. Not rocket science, right? But sometimes people get stuck and do nothing. Small actions do lead to substantial results, like restoring self-confidence.
8. You write "No matter how many times you have given up, what matters is how you will respond the next time doubt surfaces. And what matters most is learning how to take down the white flag of defeat for good." What does this mean?
It's about turning away from the enemy of your soul when he whispers in your ear, "You can't do this." I believe our life's purpose is wired into our DNA but there are forces in the Universe that don't want us to achieve this purpose. When we hear the enemy's voice we need to lean on faith and believe we are more than enough to accomplish what our heart is calling us to do.
9. How do you incorporate faith into your daily life?
As you can tell from my answer above, my faith is important and I use it every day. I  get discouraged and feel like giving up sometimes but then I go back to the strongest foundation I know – my faith. Standing on my faith I feel grounded again.
10. Your book is filled with wisdom, love, and good advice. But for someone who reads it and says 'what next?', can you suggest in 3 sentences how they can begin their journey?
Here are my three favorites:
You cannot change or heal what you do not acknowledge.
Celebrate the beautiful you.
No matter how you may feel today, believe this: don't give up on you because you do have value and you are already loved.
Alex is giving away 2 copies of his book for FREE. You only have to share this interview on Facebook, Tweet it and leave a comment below mentioning that you did so. The first 2 people receive the book. Remember to add @AlexBlackwell at the end of the tweet or Facebook mention.
You can connect with Alex on Facebook.
You can now find Saying Yes To Change : 10 Timeless Life Lessons for Creating Positive Change on Amazon.
Now it's your turn!  What motivated you to say YES to Change in your life?