Can you imagine taking FREE IVY LEAGUE courses online?
What if I told you that you could?
Would you think that you hit the jackpot?

Or would you say to yourself  'Who cares? Not interested'.
For those of you who think this information is less than compelling, click onto another site.
But for those of you who find the idea intriguing or think 'OMG, I can't believe it', then read on.
It's true.
You have the opportunity to take FREE IVY LEAGUE courses online. There's no application, requirements (except your e-mail and name), or fees. It's open to everyone.
Here are a few:
1. Fantasy and Science Fiction: The Human Mind, Our Modern World Taught by Eric Rabkin, The University of Michigan
2. Listening To World Music: Carol Muller, The University of Pennsylvania
3. Algorithms, Part 1: Robert Sedgewick, Kevin Wayne, Princeton University
4. Recognition: Silvio Saverese and Fei Fei Li, Stanford University and The University of Michigan
5. Bioelectricity: A Quantitative Approach, Roger Coke Barr, Duke University
To view more courses, click on:
Coursera – (courses listed above)
Open Culture – (including courses from Yale, MIT, and Berkeley)
Harvard University – Open Learning Initiative
7 Reasons Why You Would Be CRAZY Not To Take A Course
You have the opportunity to:
1. LEARN about and EXPERIMENT with subjects that interest you (even if you're not sure that they do).
2. EXERCISE your brain muscles.
3. EXPOSE yourself to new ideas and possibilities.
4. TAKE A RISK WITHOUT A CHANCE OF FAILURE. You're not being graded nor is anyone going to be looking over your shoulder to see if you do the assignments.
5. RE-IGNITE YOUR CREATIVITY by storing knowledge and ideas that will be fodder for your creative process.
6. USE YOUR TIME WISELY. You're fooling yourself if you think you don't have enough time. 90% of us spend way too many hours on the internet answering mail, reading a slew of blogs, and perusing sites. Does this stuff really matter? De-clutter. Take it off your reflexive 'to do' list.
7. MAKE A CHOICE. Are you going to continue reading the headlines and following the 24 hour news about tragedies, world politics, financial crises, presidential elections, and celebrities?
I don't care whether it's The New York Times, The Wall Street Journal, MSNBC, CNN, Huffington Post, or FOX News. 99% of what they say or write about is a waste of time. 
SO….Are you IN or are you OUT?     
Now it's your turn. Tell me what you think.
And since we're on the subject of great courses to take..
I' ve got some exciting news that I want to share with you. My friend Evelyn Lim of Abundance Tapestry has created The Life Vision Mastery Program. It's a phenomenal course that is both inspirational and will give you the tools to begin to live a life of abundance, success, love, and your soul purpose.
I was honored that she asked to interview me about creativity.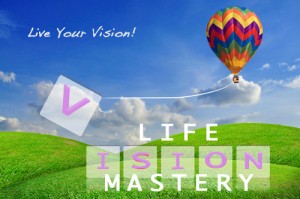 Evelyn is an extremely skillful and talented woman who is generously offering her years of experience, knowledge, skills, and artistry to you at an extremely reasonable price. Check it out at: The Life Vision Mastery Program.