Last week, I co-taught a workshop at the Expressive Therapies Summit in NYC called Voice Dialogue and Edible Container Gardening: Sowing Seeds of Inner Resilience.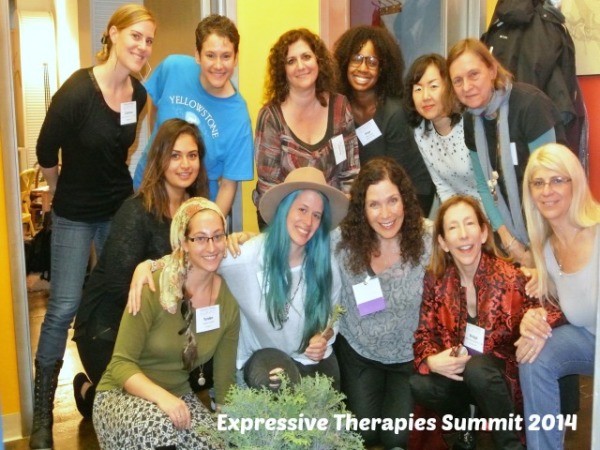 Along with my dear friend and colleague, Bridgit Dengel Gaspard, who is a Voice Dialogue teacher extraordinaire, we guided a diverse and amazing group of women in connecting to different aspects of their inner selves through planting edible container gardens and utilizing techniques from Voice Dialogue, which the founders, Hal and Sidra Stone, describe as "a trans-cultural – and remarkably inclusive – psycho-spiritual approach to consciousness."
The tenets of Voice Dialogue are:
Voice Dialogue: You are not one, but many.
Voice Dialogue is the basic method for contacting, learning about, and working with the many selves that make up each of us.
The Psychology of Selves provides a clear explanation of how these selves operate in your life and how they keep you from realizing your full potential.
Learn how these selves determine the way you see the world, control your behavior, and limit your choices. Most of us live a much smaller life than necessary. Learn to be more than any one of your individual selves.
Relationship: Our relationships are controlled by these selves.
The Stones' approach to relationship – their theory of bonding patterns – provides an easy to understand technology of relationship. Learn how the difficulties in your relationships can be the source of creative change, of greater control over your life and behavior, and more joy.
Energetics – interactions in "the field".
Modern science and ancient wisdom both teach about the importance of what is not seen – of the field that surrounds matter. Our emphasis on the energetics of relationship enables you to work directly with this field in both your interpersonal and intrapsychic life.
Dreams – providing guidance from within.
This work activates the "inner teacher". As you learn about – and separate from – your individual selves, your own source of deep wisdom becomes available to you through dreams. Learning to understand your dreams and daydreams provides an objective and steady guidance that is particularly valuable in uncertain times. "
Resource: Voice Dialogue International
5 Reasons How Edible Container Gardening Is A Tool For Connecting With Aspects of Your Inner Self

1. It's transportable and can be done anywhere. With over 50% of us living in cities, the idea of gardening on a plot of land is no longer the norm.
Container gardening offers us the opportunity to grow veggies, fruits, herbs, and flowers on terraces, balconies, windowsills, or even under grow-lights.
2. It's an empowering act. Sowing edible seeds or plants is an act of self-reliance. You no longer have to rely on others to feed you. Once you start growing your own food and plop a juicy, ripe cherry tomato in your mouth, you'll never look at a store bought tomato and think 'I want that.'
3. It can awaken your senses. When you practice mindful gardening — slow down, pay attention, and touch, smell, see, hear, and  just 'be' in the moment, a world of magic can open up to you.
You can appreciate the beauty and imperfection of all plants–which in turn can help you be more accepting of your own imperfections.
4. It can teach you to 'let go of control'. You can do everything right with a plant and still it might die–for no apparent reason. If you want to be a long term gardener and find pleasure in it, the sooner you let go of control and know that you're not in charge, the more pleasure and freedom you'll experience –in an out of the garden.
5. It's a radical act of self care.  Think about it. When you take the time to plant tomatoes, cucumbers, beans, peppers, eggplants, corn, herbs or whatever else whets your appetite, you are making a strong statement about what you value in your life.
You're feeding your body with nutrition when you sow organic seeds in fresh, crumbly soil. And you're feeding your soul when you slow down and spend time connecting with nature
Now it's your turn. Share your thoughts on edible container gardening and/or Voice Dialogue.
If you're interested in creativity and unearthing your authentic self, check out my updated and newly published 10th Anniversary Edition of Digging Deep: Unearthing Your Creative Roots Through Gardening. It's available in paperback and kindle.